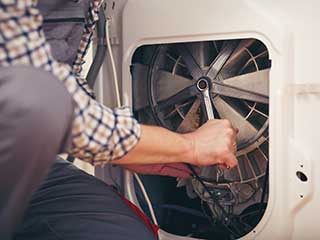 Need help with emergency electrical repairs at your home? Electrical problems can be a real emergency, with plenty of problems that can endanger your safety. A faulty smoke alarm or a malfunctioning washing machine can prove hazardous. Never put off scheduling the repairs when you need them. Electrical Contractor LA offers repairs 7-days a week, with a same-day solution policy. Never spend time waiting for a fault to get fixed. Simply speak with us, the best electrical contractors near you, and we'll make sure the problem gets solved quickly. We offer free estimates, and with our amazingly low prices, you can be sure you'll get a great deal on home electrical repairs.
General Electrical Appliance Repairs
Many of your household appliances will succumb to electrical problems at one point or another. An oven that won't switch on or a refrigerator that can't keep food cool are both big problems. Our electrical repairmen know how to resolve these issues quickly, and in most cases, we can complete these repairs the same day. Thanks to more than a decade of providing electrical appliance repairs in Los Angeles we'll never keep you waiting. Whether we discover that your appliance needs electrical cord repairs, or the work is more involved, you can be sure we'll get it taken care of.
Cheap Electrical Repair Services Near Los Angeles
Our professionals service all nearby parts of LA County. That means when you need emergency electrical repairs, we'll be on hand to get things fixed quickly. Don't stress out when your smoke detector isn't working, or you can't get your lights to switch on. Our team can be on hand quickly to find out what the problem is, and with many years of experience, it doesn't take our team long to get things fixed. From faulty wall outlets to electrical recliner repairs, we can handle any and all issues you're dealing with. As the leading Los Angeles electrical repairmen, we know how to solve problems with all types of infrastructures. You can call us from all nearby cities for a same-day response.
Low Prices For Home Electrical Repairs
We're your nearest electrical repair company, and we specialize in solving all the problems you can encounter at home. Electrical panels can break down, wiring insulation can melt, and you can find issues like strange buzzing noises. These are signs that you need our home electrical repairs services. Remember, problems with exposed wires or outlets are dangerous. Never try to handle these sorts of issues yourself. We have excellent low prices on all our electrical repair services, whether you need a new outlet or wire repairs. We take care of these problems in record time, so you don't have to worry about the safety of your property. Our local Los Angeles electricians specialize in delivering flawless results every single time.
Los Angeles Electrical Repair Contractors
Our knowledgeable local electricians draw on many years' experience to get the job done right the first time. That means no time spent waiting around and reduces the stress when you need emergency electrical repairs. You know we'll take care of things, and because we're based in the local area you can be sure we'll be there when you need us. Give Electrical Contractor LA a call for urgent repair services or to schedule a free estimate.