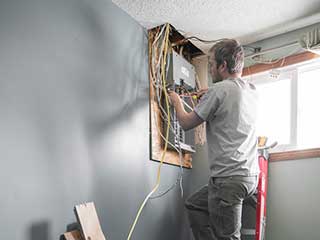 Need some electrical wiring repaired or features installed in the Los Angeles area? With one call, you can have a team of the best electricians in southern California on their way to your address within the day! Electrical Contractor LA handles all aspects of electrical repair. Lighting, electrical panels and circuit breakers, smoke detectors, and all other household wiring and appliances are on the menu. Read on to learn more about our electrical installation services, or go ahead and give us a call!
Experienced Los Angeles Electricians
The key to functional, long-lasting electrical installation is professional experience. That's why our company keeps a staff of expert Los Angeles electricians on staff! Our same day electrical installation services are available on weekends and weekdays alike. Our electricians' repertoire includes repair and replacement alike. If you have sudden electrical problems, we can have someone on the way within hours with a full set of tools for any possible issue.
General Electrical Installation
Buildings contain circuits that loop to and from the main electrical panel. Lights, HVAC systems, and smoke detectors are connected to these circuits. So are the electrical outlets that you need to plug in your household appliances. These wire systems are sturdy, but in older buildings or ones that have had water damage, they can need replacement. The insulation that prevents them from touching the wood or drywall and risking housefires can also wear down. Our electricians provide wiring repair and insulation replacement. They can also install new outlets and circuit extensions.
Panel And Circuit Breaker Services
Electrical installation in new structures starts from the source. Buildings that use municipal power services have a main electrical panel. This is where the electricity flows into the local circuits from the outdoor line. Electrical panels are where you can open and close each circuit with the flip of a switch. They have automatic circuit breakers that will close themselves off to prevent dangerous overdraws and surges. An old or damaged board can be hard or even dangerous to use, and a stuck circuit breaker is an accident waiting to happen. Our electrical installation services include panel and breaker repair and replacement. Not to mention fresh addition to new buildings.
Electric Lighting Installation In Los Angeles
Most of your active interaction with your household wiring is probably through the light switches. Our electricians can install or replace light fixtures, switches, and even dimmers. Upgrading from a binary light switch to a dimmer is easier than many people realize! Choose sliding, rotating, or multi-button controls as you prefer. It's all just as easy for our electrical installation professionals!
Safety Is Paramount!
Carbon monoxide detectors. Fire alarms and smoke detectors. These are the electrical fixtures that protect not just your property, but you and your family's lives. You should test your detectors periodically. If one isn't working, order some electrical installation services on the double! Talk to us about any relevant electrical repair options. This including replacement of old detectors and installing a set in new or remodeled buildings.
Get Our Electrician Contractors On Their Way!
Our Los Angeles electricians are near you all week long and available at short notice for emergencies. Electrical installation services in the LA area are easy to schedule, inexpensive, and getting more convenient all the time. With a same-day solution 7-days a week, you can always get help whenever you need it. Give us a call, and we can take care of your electrical installation needs today!